39 years, from Rome, Italy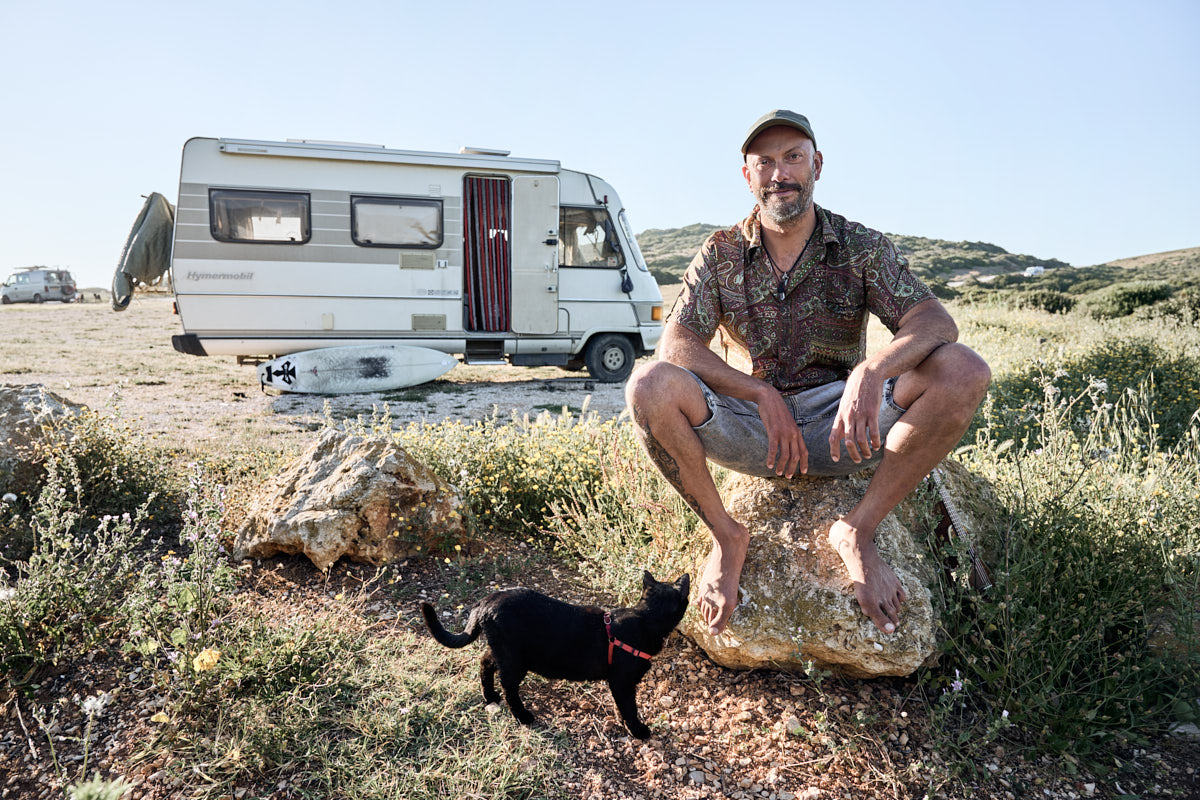 "You need to know where to hide and when it's time to hide – pirate life, man!"
Simon – Praia Do Amado, Portugal
39 years, from Rome, Italy
Simon has been on the road since 2015. After completing his PhD in biomechanics at an institute in Barcelona, he felt the urge to explore the world. In the years leading up to his graduation, he was heavily involved with research studies he was supervising and couldn't take a longer trip. He needed a break, wanted to get out and see the world. With his van at the time, he set off on a six-month trip to Morocco to learn Arabic and surf. Simon had heard that you could find good conditions there. On the way, he met a surf instructor who taught him to understand waves and the ocean. Thereafter, his years were really the same. He spent six months in a tropical country, South East Asia, South & Central America, surfing. In between, he would come back and earn money to fund his travel addiction. There was always a job for him if he required it. 
When the first COVID-19 wave hit, he was travelling in Colombia. He couldn't make it back to Europe, so he spent the first lockdown in the jungles of the north with a friend from Italy. Here there was hardly any sign of Corona restrictions, they were able to move around relatively freely. When Simon could finally fly home again to check on his family and friends, he was a little shocked. The world seemed to him as if everyone had gone crazy. A lot had passed him by in the jungles of Colombia. Back home, he was trying to figure out for himself what to do. He didn't know if and when the countries would close their borders again, whether it would be possible for him to travel by plane. At that point, he no longer had a van in Europe. One night, he was on his way home and saw a camper van from the 70s parked on the road. In the front window was a 'For Sale' sign with a phone number, really old-fashioned. The following day, Simon called. The motorhome belonged to an old man who had taken excellent care of it. The van was in superb condition for its age, the price too good not to buy. It is Simon's fifth van in his life.
He has been travelling in it since he returned to Europe and found the camper van. His cat joined him at about the same time. Of course, Simon feels the urge to fly to a faraway tropical country again, but he also loves the freedom and good surfing he finds in Portugal and Spain. Even if the winters are a bit colder.
He sees himself as a mercenary who has worked in many different jobs to earn money. No work in the biotechnology sector, he renovated houses. Then, through a friend, he heard about the opportunity to teach students on an online platform and jumped at the chance. Now he uses his knowledge from his studies to teach students chemistry and science online. He is focused on becoming a good teacher. He has found his niche to earn money while travelling in the van.