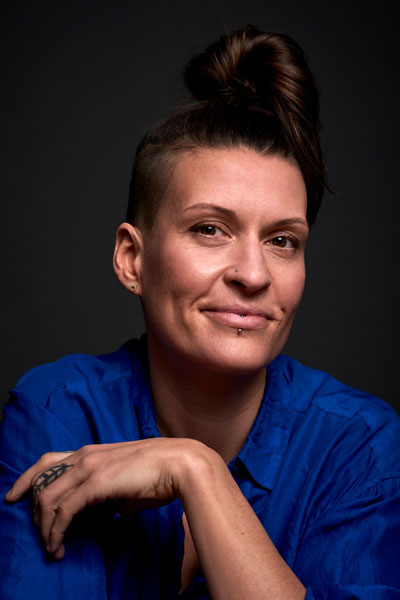 Contact
Saskia Uppenkamp | Photographer
Mobil:   +49 (0) 177 29 313 09
mail:   photo (AT) saskia-uppenkamp.com


Berlin  –  Germany
SASKIA IS A BERLIN-BASED PHOTOGRAPHER SPECIALIZED IN PORTRAITURE AND REPORTAGES.
AFTER WORKING IN THE MOVIE INDUSTRY FOR MORE THAN TEN YEARS AS A FOCUS PULLER AND CAMERA OPERATOR,
SHE SWITCHED TO A CAREER IN PHOTOGRAPHY IN 2011. SHE STUDIED AT 'NEUE SCHULE FÜR FOTOGRAFIE' IN BERLIN.
PORTRAITS OF MUSICIANS AND ARTISTS AS WELL AS REPORTAGES, BUSINESS PHOTOGRAPHY AND EVENT DOCUMENTATIONS ARE PART OF HER PORTFOLIO.
HER PICTURES GOT PUBLISHED IN MAGAZINES LIKE 'THE WALL STREET JOURNAL',  'MANAGER MAGAZIN' AND
'LUFTHANSA MAGAZIN'.
Since 2014 she is camera witness for the online creative magazine WITNESS-THIS.COM.

2018 – Group Exhibition 'Perspektiven #3' at Neue Schule für Fotografie – Berlin
2016 – Winner of The Professional Imagers Club Award for Young Professionals
2014 – Group Exhibition 'SOWIESO' At Neue Schule für Fotografie
CLIENTS & REFERENCES
The Wall Street Journal *  SIEMENS  *  SCHNEIDER WEISSE  *  ARTE MAGAZINE * WITNESS THIS  *  LABYRINTH OF LIES – EXHIBITION  *  TREND WIRTSCHAFTSMAGAZIN  *  ON&OFFER  *  ONO LABS  *  LG  *  DKV  *  TARGET GLOBAL  *  Schnittker Möllmann Partners  *  THE HUNDERT  *  BUSINESS INSIDER  *  LEETCHI.COM  *  EPIC GAMES  *  CONTIAMO  *  FUXBLAU  *  Wintergarten Varieté  *  SPRYKER  *  PROJECT A  *  i2X  *  MANAGER MAGAZIN  *  HYPO VEREINSBANK BERLIN  *  NATUR MAGAZINE  *  T-SYSTEMS – BEST PRACTICE  *  ZITTY BERLIN  *  BERLIN VALLEY  *  ARTLAKE FESTIVAL  *  FEEL FESTIVAL  *  TIP BERLIN  *  CARITAS  *  UNIVERSITÄT DER KÜNSTE BERLIN  *  JUSTCARRIED.COM  *  7LEADS  *  MEDIA COMPANY BERLIN  *  EVRGREEN.DE  *  MASHUP COMMUNICATIONS