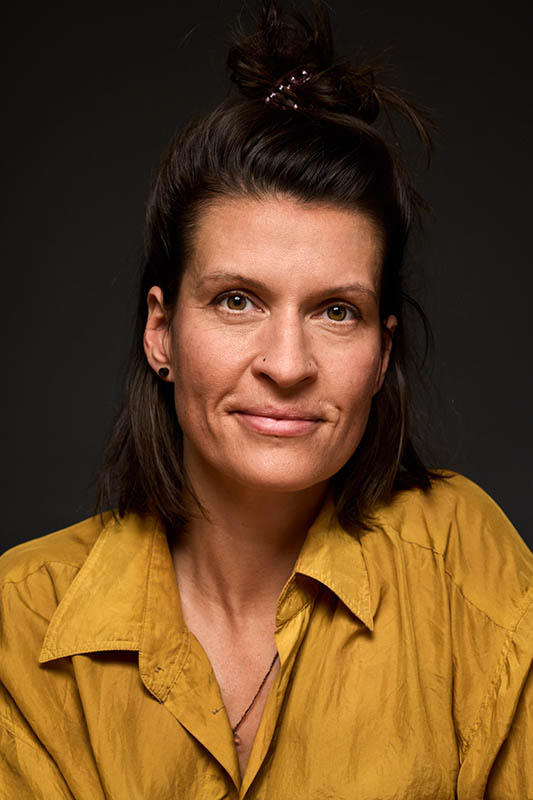 Saskia Uppenkamp | Photographer
mobile:   +49 (0) 177 29 313 09
email:   photo (AT) saskia-uppenkamp.com
Berlin  –  Germany
I am Saskia, born in '81, happy in Berlin since 2004, except during the winter. Then I'm drawn to warm places around the world. Since my 18th birthday vegetarian by heart, I love iced latte with oat milk and, of course, photography. I have not been taking pictures since I was in kindergarten. Moving images fascinated me at first. After graduating from high school, first stop film industry, career choice camerawoman. 10 years as a clapper loader, focus puller and operator, more than 50 German and international movie and advertising productions. At the age of 30 I knew I've had enough of the film camera for now, I needed a new challenge: I studied photography at the 'Neue Schule für Fotografie' in Berlin, graduating in 2014 under the guidance of Eva Bertram. I was able to gain practical experience as assistant to the photographers Jan von Holleben and Benno Kraehahn.
Since 2014 I have been working as a freelance photographer in the fields of portrait & reportage. Always on the search for people with stories. All my heart goes into artist portraiture or reportages on sustainable topics. Alternative concepts of living interest me in a special way. I also serve the field of business & corporate photography and watch people with my camera at big corporate events. My pictures have been published in magazines like 'The Wall Street Journal' and 'Lufthansa Magazin'.
Awards & Exhibitions
2023 – 'LOOK AT ME NOW' European Month Of Photography – Group Exhibition Female Photoclub Berlin
2022 – Project funding 'SO MANY WAYS' by Stiftung Kulturwerk VG Bild-Kunst
2022 – Ocean.Now! IN YOUR FACE Exhibition – UN Ocean Conference, Lisbon
2021 – Ocean.Now! IN YOUR FACE Exhibition – Berlin Photo Week 2021
2021 – SPEKTREN Group exhibition of the Female Photoclub
2021 – 'RUMMELSBURGER BUCHT' shown in the permanent exhibition of Museum Lichtenberg Berlin
2019 – Islands of Utopia shows 'Rummelsburger Bucht' – Group Exhibition by 'Museum der Subkulturen'
2018 – Group Exhibition 'Perspektiven #3' at Neue Schule für Fotografie – Berlin
2016 – Winner of The Professional Imagers Club Award for Young Professionals
2014 – Group Exhibition 'SOWIESO' At Neue Schule für Fotografie
Leave me a message and I get back to you.
Clients & References
The Wall Street Journal  *  Unicredit  *  Berliner Sparkasse  *  ReBuy  *  CHOCO  *  Elektrolux/AEG  *  Lufthansa Magazin  *  Gesellschaft für internationale Zusammenarbeit  *  Zalando  *  EWS Energiewendemagazin  *  My Little Box Deutschland  *  Bundesministerium für Wirtschaft  *  Siemens  *  Weber Bank Diskurs Magazin  *  Lufthansa Magazin  *  VDA Verband Deutscher Automobilhersteller  *  DEGES  *  Friedrich-Ebert-Stiftung  *  Pro Agro e.V.  *  Rockstone Real Estate   *  HWP Handwerkspartner AG *   Schneider Weisse  * Witness This  *  Arte Magazin  *  Sigal & Sapiro Real Estate  * Mashup Communications  *  Trend Wirtschaftsmagazin  *  On&Offer  *  Ono Labs  *  Brandwatch  *  LG  *  DKV  *  Target Global  *  Schnittker Möllmann Partners  *  The Hundert  *  Business Insider  *  Leetchi  *  Labyrinth Of Lies Exhibition  *  Epic Games  *  Contiamo  *  Fuxblau  *  Wintergarten Varieté  *  Spryker  *  Project A  * i2X  * Manager Magazin  * HypoVereinsbank Berlin  *  Natur Magazin  * T-Systems Best Practice  *  Zitty Berlin  *  Berlin Valley  *  Artlake Festival  *  Feel  Festival  *  TIP Berlin  *  Caritas  *  Universität der Künste Berlin  *