24 years, from Eberswalde, Germany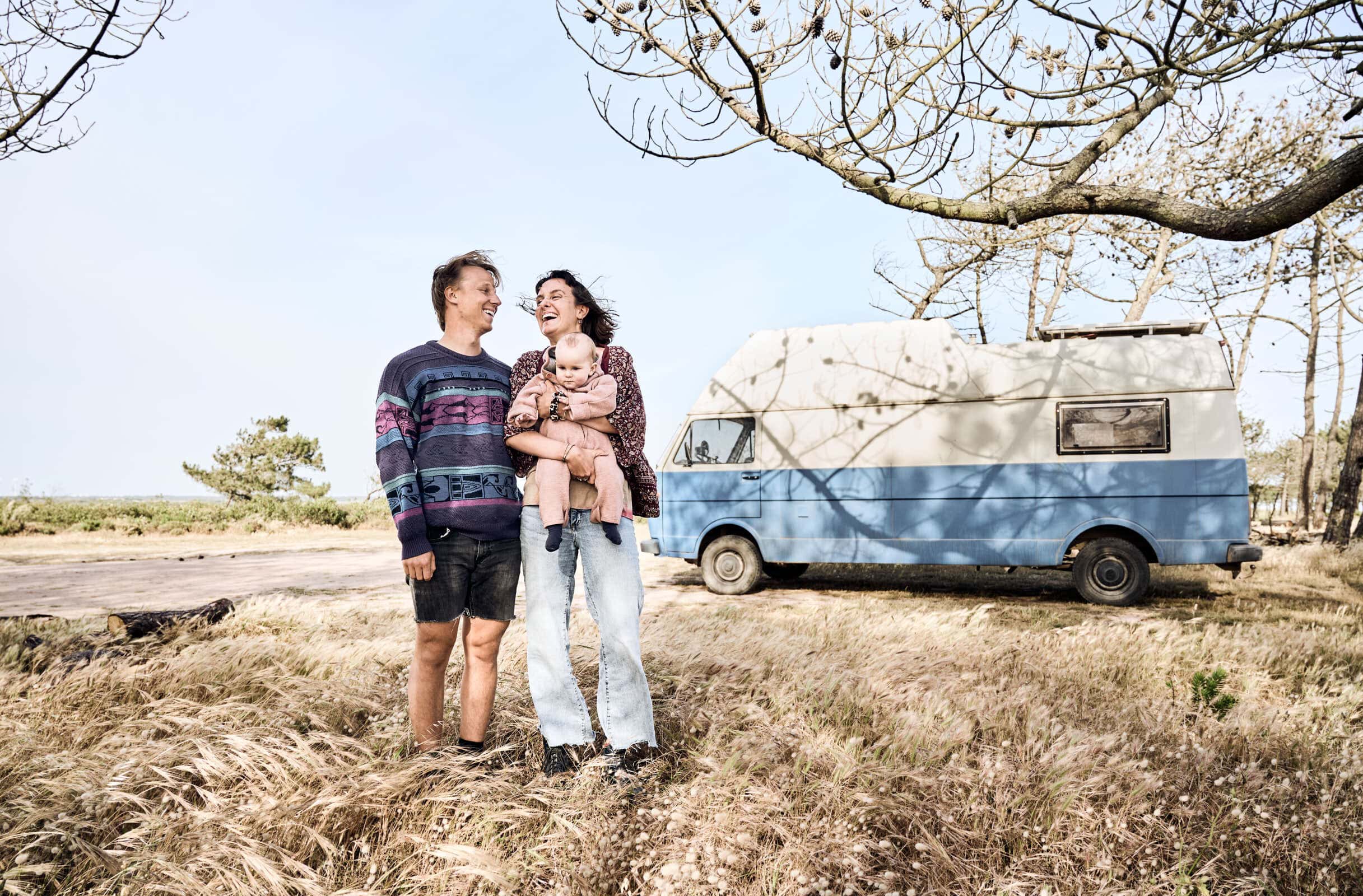 "It's a kind of love-hate relationship. On the one hand, the vehicle has never let us down in terms of driving performance. We haven't had a single breakdown yet. But yeah, it definitely rains in and all the places we've fixed are already starting to rust again."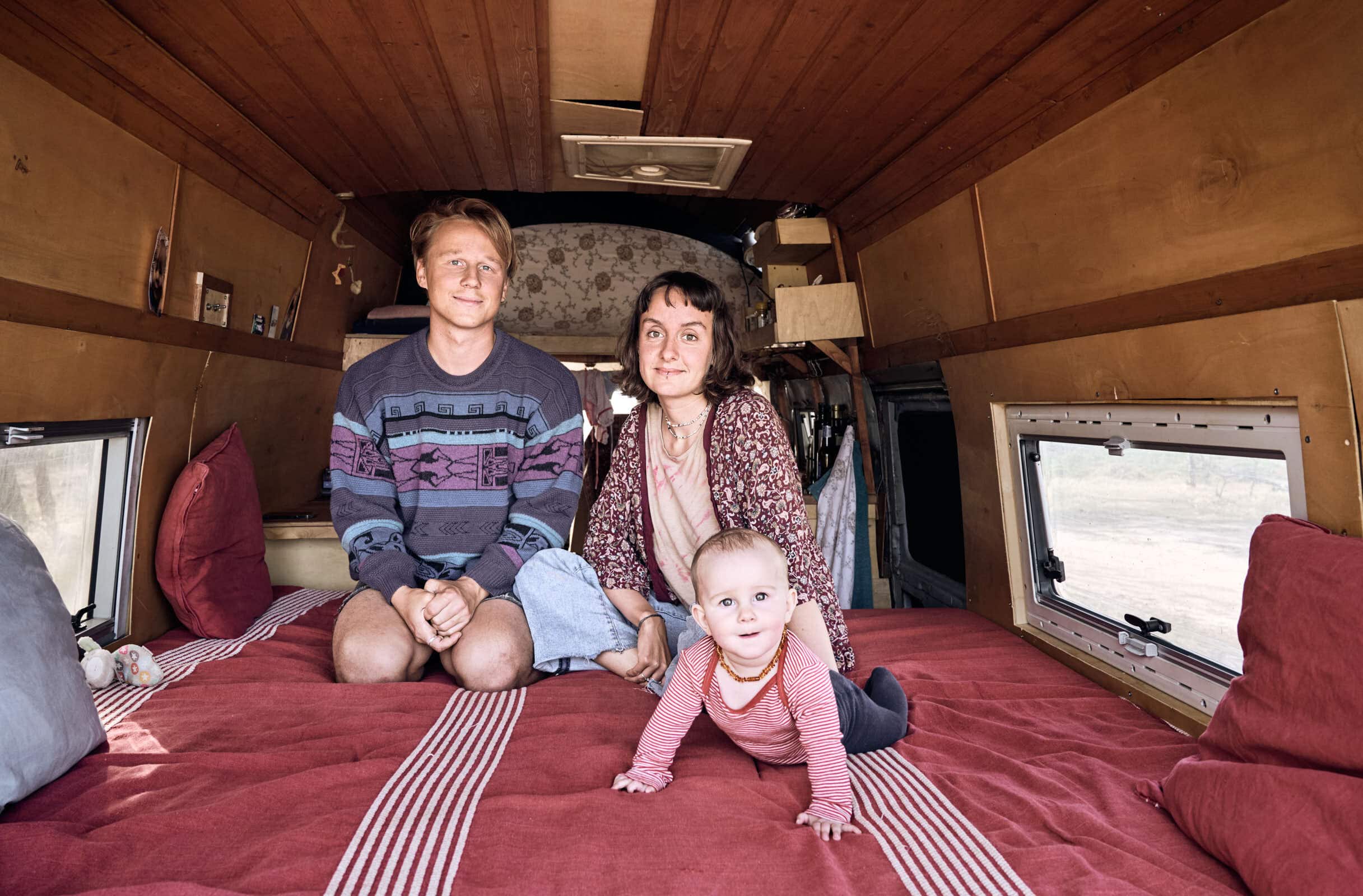 Jan & Lia – Vila Do Bispo, Portugal
24 years, from Eberswalde, Germany 
Lia and Jan have known each other since their school days. Jan started fourth grade at the Waldorf School, where Lia also went. Years later, in twelfth grade, they became a couple. 
The story of their van also begins in their school days, but more as a project among friends. With two of his schoolmates, Jan shared a passion for handicrafts and the idea of owning a camper van to escape from civilization towards the sun. The ­Waldorf School also taught skills like ­welding, so they felt up to overhauling and upgrading an old van. 
Already in 2017 it was difficult to buy a suitable van, especially if the budget is rather small. They found what they were looking for in the Netherlands. Even before they had all obtained a driving ­licence, they bought an old VW LT 28, with an inserted intermediate piece that lengthened the mobile by quite a bit. An unusual specimen. It seemed just right to the friends, as it offered much more space inside for everyone. 
However, the van initially turned out to be more of a nuisance. It transpired that the middle section was never officially registered in the papers, which made car registration in Germany extremely difficult. They had to tear out the interior due to mould, ­revealing what they should not have seen when they bought it: the rust-eaten bodywork. To make matters worse, rain was pouring in everywhere. The three of them realized that they had been a bit naïve in their approach and had overestimated their ­craftsmanship for such a project. They invested a lot of time and nerves to make the vehicle roadworthy and liveable again within their means, started 2019 on their first tour together. 
For the past year, the van has been permanently parked in Portugal because the cost of petrol is so high, the van doesn't necessarily go fast, and it's very noisy, which is exhausting on a long trip. The friends take turns using the van, depending on who feels like travelling currently, thus saving themselves the ­distances to get out of Germany. For Lia and Jan, despite their six-year relationship, it is their first longer trip together. The pregnancy was not planned, both are currently studying and have taken time off. The trip is above all a test. Ebba, at just seven months, is travelling for a longer period for the first time. The young parents didn't know whether the little one would cope well with life in the van; they spent a lot of time at home during the first months. After seven weeks in the van, however, they rather feel that they have under challenged their daughter before. Ebba loves the many new impressions and 
people they meet on their journey. 
Lia and Jan are now considering buying a new van. One in which it does not rain, has running water, and offers a little more comfort when they are travelling with their daughter. Lia cannot imagine living in the van permanently. She feels she would miss her friends. Jan, on the other hand, would like to travel for a longer time. Not just limited to Portugal, further afield to other countries, always gathering new impressions and getting to know other cultures. 
»We have very similar standards. Or let's put it this way: We can approach each other if something bothers the one or another, which of course happens quickly in a confined space. We don't really have any problems. A little bit of a difference in cleanliness requirements, but that's just where I've adapted.«