42 years, from Zurich, Switzerland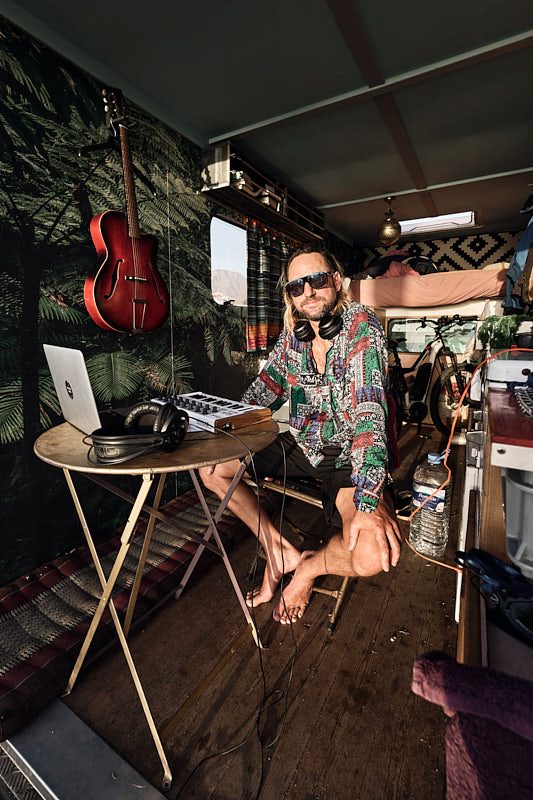 "For me, living in a van means being at home everywhere, discovering many magical places,
meeting people, but also having time for myself – being in the flow." 
Elias – Playa Las Americas, Tenerife
42 years, from Zurich, Switzerland
The idea of leaving Zurich had been with Elias for a while. After breaking up with his girlfriend, he needed time for himself. The feeling of 'having to get away' became stronger and stronger. In the summer of 2021, Elias bought the van from his neighbour on an autonomous site where he lived in a caravan. For three months he continued to upgrade the van, papered a jungle wallpaper, sanded the floor, installed solar panels to be self-sufficient.
His tour started in September. First, he went to Calais to bring clothes and ­hygiene products to an NGO. The NGO looked after refugees in a local camp. Here he worked for a while in the camp's kitchen. He continued via Brittany to southern Spain. There he had his van shipped to the Canary Islands in November.
Two to three months a year in the summer months, Elias works as a teacher in Switzerland, he is employed as a jumper. The rest of the time he uses for his own projects. He has been making music since childhood, playing in several bands of different musical styles, punk, SKA, hip-hop and jazz. 10 years ago, he discovered electronic music for himself and started producing with two friends. Today he is on the road solo. For the last seven years, which he spent in Zurich before his trip, he DJed and organized his own open airs. For now, he has taken a year off for his journey. Elias says his life is actually made up of time off.