THE RAINBOW TEAM – ABOUT SOCCER AND DREAMS
When Jojo Landstedt visited Sweden with his family at the age of 12, he heard about the Gothia Cup for the first time. It is the largest and most international youth football tournament in the world. Every year about 1700 teams from 80 nations take part, 4500 games are played on 110 fields.
Jojo told his mother Pernilla that he would also like to participate with his own South African team. When they returned to Cape Town, where they live, he and his mother began researching the possibility of a South African team participating. Pernilla asked the head coach of Jojo's football club, if he would be interested in training the children. He thought the idea was great and put together a team of boys from local football clubs. They all had very different economic, social and cultural backgrounds. The cost of the trip for half of the children was covered by sponsors, the other half was lucky enough to have parents who could pay their children the trip to Sweden.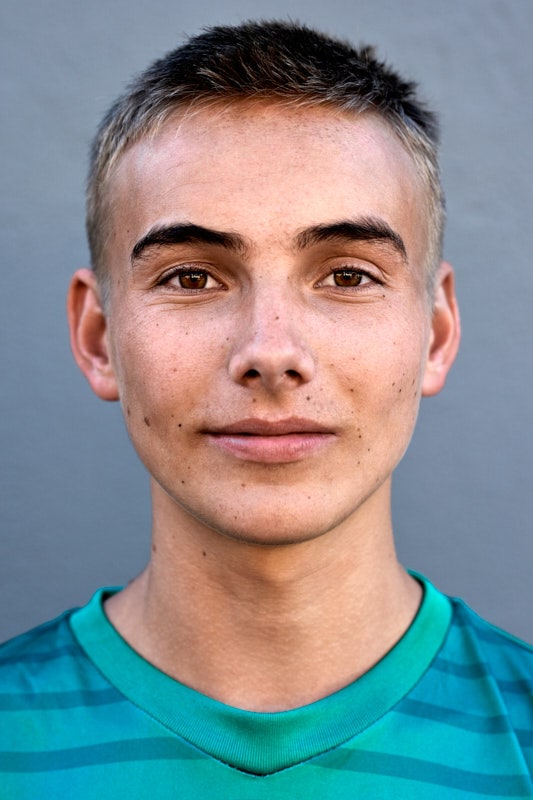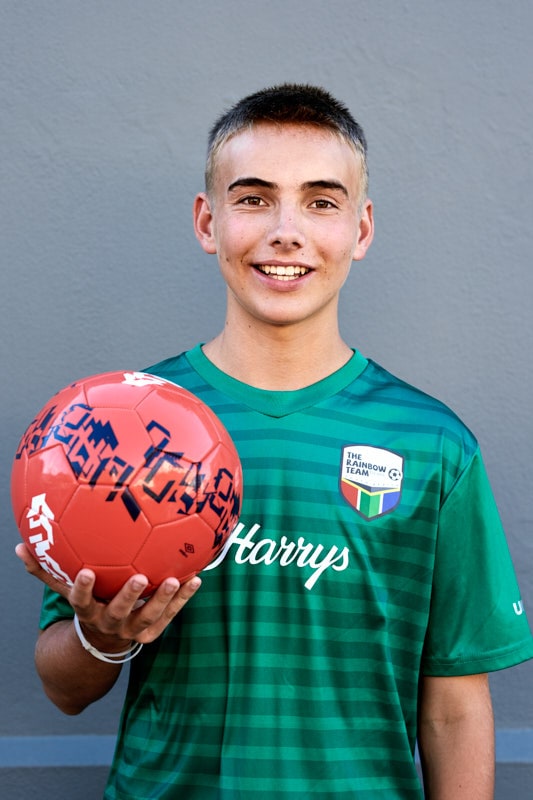 Jojo Landstedt – # 21 – center mid
"When we play, we don't see any difference between us, even though coming from so different backgrounds."
The aim was not to find the best children in the age group, but to put together a team that could represent the diversity of the country at Gothia Cup. A year later, in 2015, they travelled to Sweden for the first time. At the opening ceremony of the Gothia Cup, they were flag bearers for South Africa and made it into the top 64 in a group of around 220 teams. It was a great experience for the children and everyone agreed that the Rainbow team would continue to play. 2018 was the most successful year so far, they reached the top 9. But the Rainbow Team isn't just about playing football, it's about being a good person. In the second year a code of conduct was established: The children have to follow the rules and be good at school. Rainbow Team offers the boys tutoring to help them in school and mentoring to discuss different life issues.
In 2019 the Rainbow Team will not be part of the Gothia Cup, because only academy teams get invited to the age group 17. From now on, support will focus more on school by mentoring, tutoring, how best prepare the boys for life after school as well as meeting for social activities once a month and handout soccer items to soccer enthusiasts who don't have.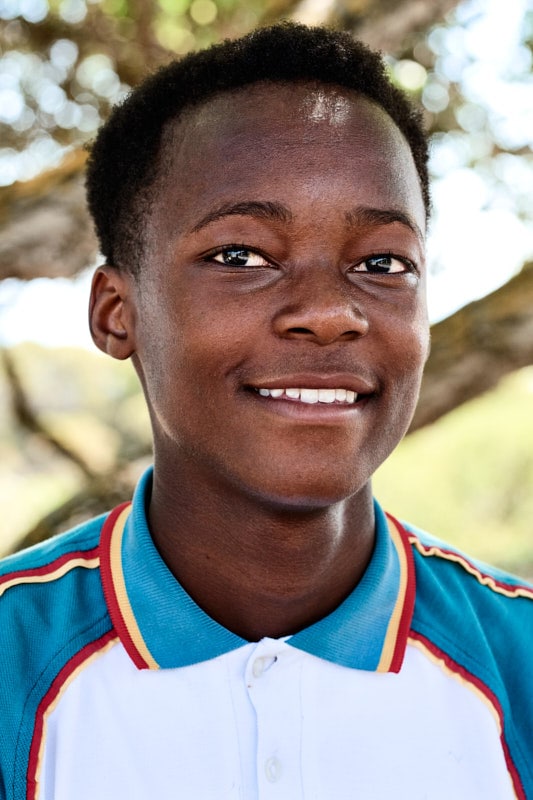 Kabelo Moyo – # 8 – left mid
"It was an amazing experience. I never have been overseas, just the thought of going to a new foreign land that I have never been to, that I only see in travel magazines, I was excited. And also to put South Africa on a map and showcase my skills on a world stage was great."
Kabelo lives in Imizamo Yethu, one of the Townships of Hout Bay. He knew Jojo since primary school and they played together in Camps Bay Soccer Club, when Pernilla and Anees asked him in 2015 to join RT. Kabelo was overwhelmed and thrilled when they offered him this opportunity. The trip to Gothenburg in 2016 was his first long journey. Kabelo is one of the boys who are supported outside the school by tutors who are financed by sponsors of the Rainbow Team. It helped him to get better in school. He told me:
"I was naughty and Rainbow Team helped to humble myself to become a better person."
Kabelo aims for a professional football career. After finishing school, he hopes to be accepted at a football academy. To live, study and train there, also to save his family the monthly expenses.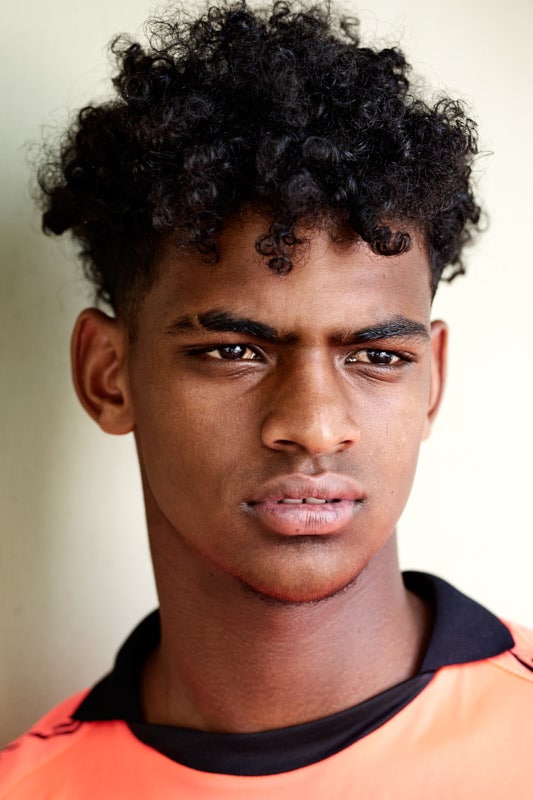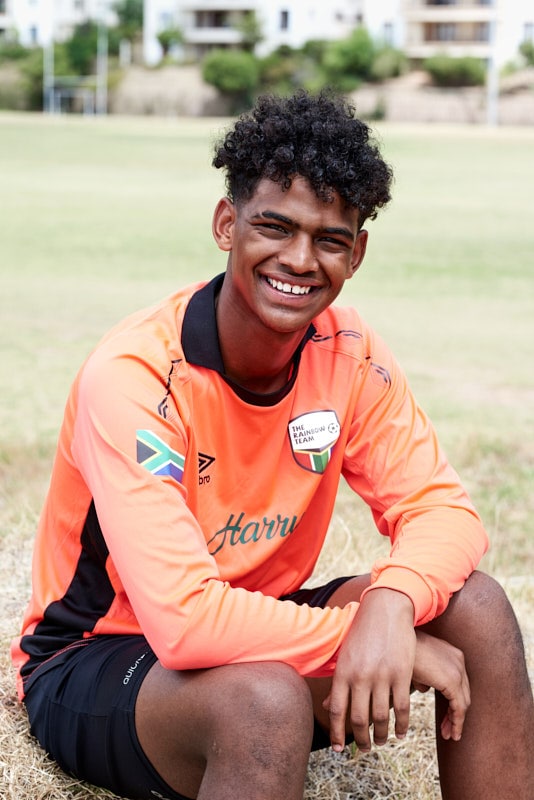 Aden Dreyer – # 1 – Goalie
" I was so excited that my talent would take me places. Would have loved to be part from day one. "
Aden is 15 years old and it's his 2nd year in RT. His Dad used to play football with the assistant coach of RT. When RT needed a backup goalie Aden was brought in, but he became first. His greatest experience with RT was getting to the quarterfinals. During the penalty shooting he saved many goals. Aden also plays at the Ajax Amsterdam Academy in Cape Town, that combines soccer training with school. He hopes to be good enough to be sent to Amsterdam where Ajax scouts new talents during a tournament. Because of this his time to play for RT his very limited, but he hopes to join again in 2020.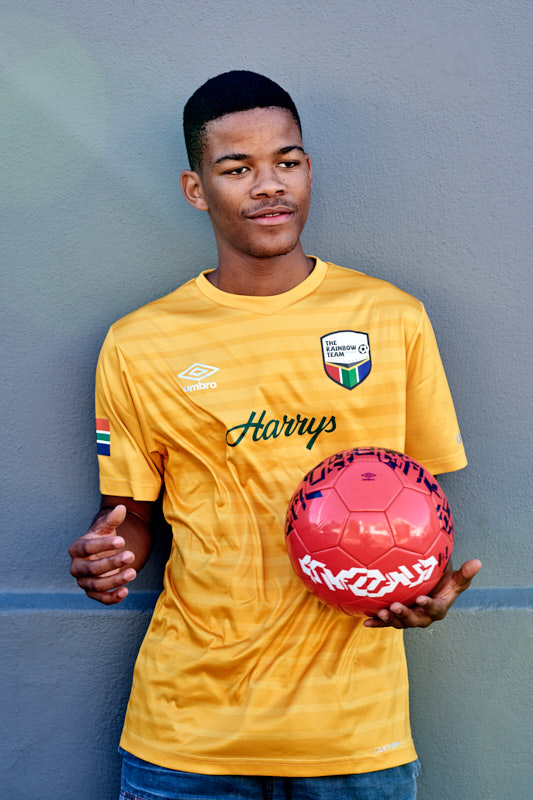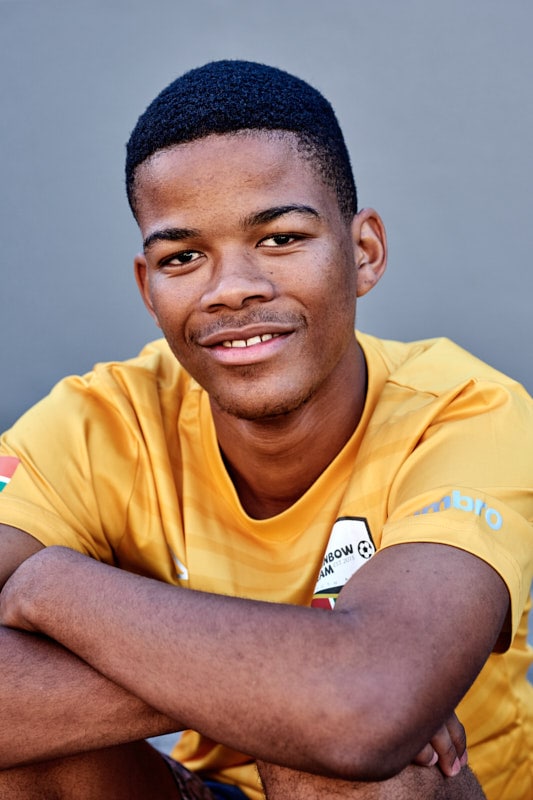 Sihle Songanga – #4 – center back & right back
"RT is more than just a team. Many of us go to school together. We used to all play at the same club. We're in a group chat. We speak every single day. It's like we all are like a family."
In 2014 he was one of the first to join the Rainbow Team. He didn't know what to expect and thought it was just another new team. When they went for the first time in 2015 to the Gothenburg Cup, he slowly understood. The first year they thought they were going just for fun, but than the team realised they might be better than they thought and there was a chance of them actually winning. From the second year onwards they took it a lot more serious. They trained hard and played very well, each year they came closer and closer. Right now he lives with Pernilla and Jojo during the week since he started going to Camps Bay High school. His mom lives in a township called Nyanga near the Cape Town Airport. Sihle is 18 years old and in his final year of school now.  After school he is planning to apply for a football scholarship overseas as well as to study politics and economics. He is not sure, if he might be able to join again in 2020 for another tournament. RT gave him the chance to experience a different culture as well as meeting people, that might help him along his way in the future.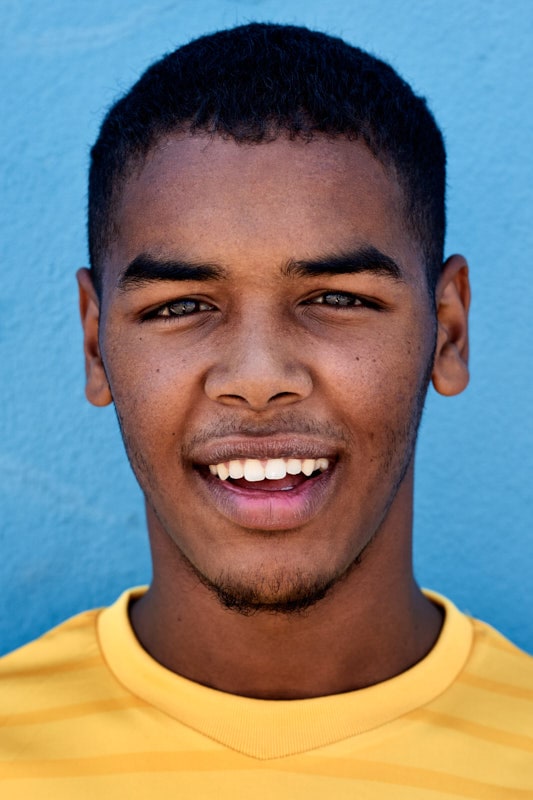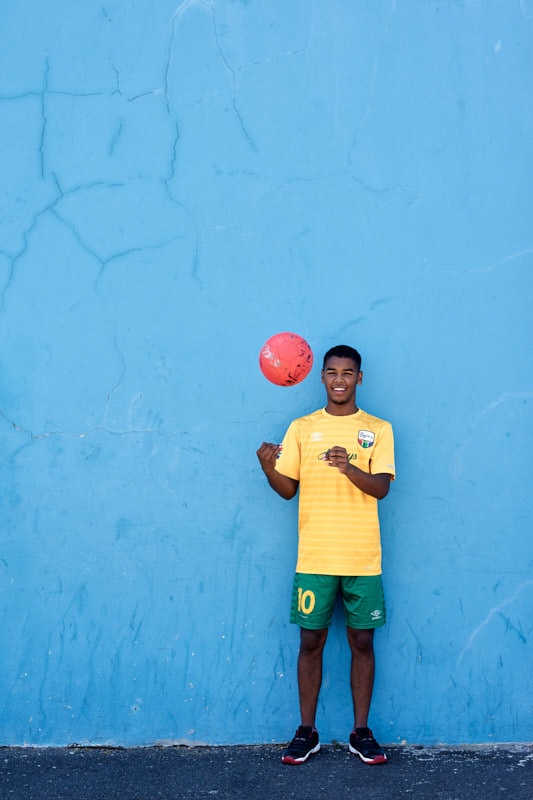 Zakaria 'Zackie' Henning – #10 – center & right-mid
'Not many South African teams go to participate at the Gothia Cup and even the participating don't make it that far. It was an achievement for us as the Rainbow Team.'
Zackie joined RT when he was 12, playing at a municipality club. 2019 will be his last year in school. The tutoring offered by RT helped him a lot to improve his grades over the years. But still he got suspended from the team one-week prior our photo shooting because his grades weren't good enough. He said he was working hard to be able to come back to training as fast as possible. He is eager to take part in the cup in 2020 because he met a girl in Gothenburg during the last trip.
RT was like a family for him – they showed him a lot, told him a lot, he learned a lot.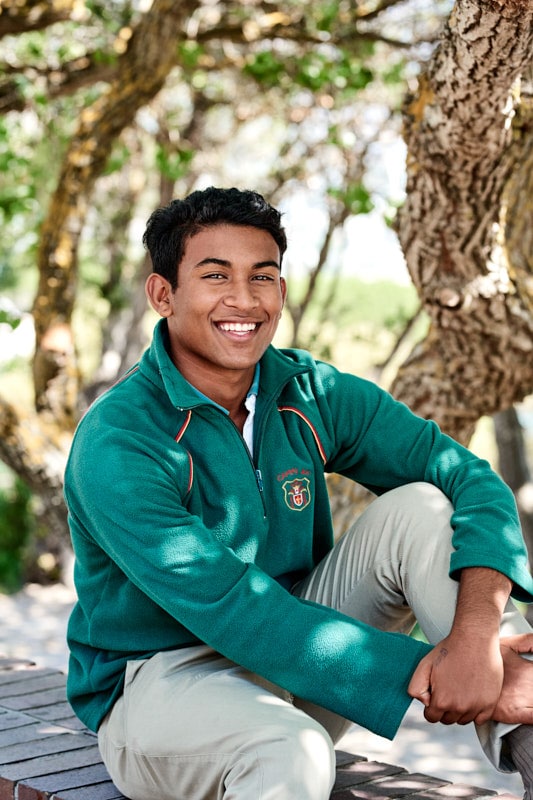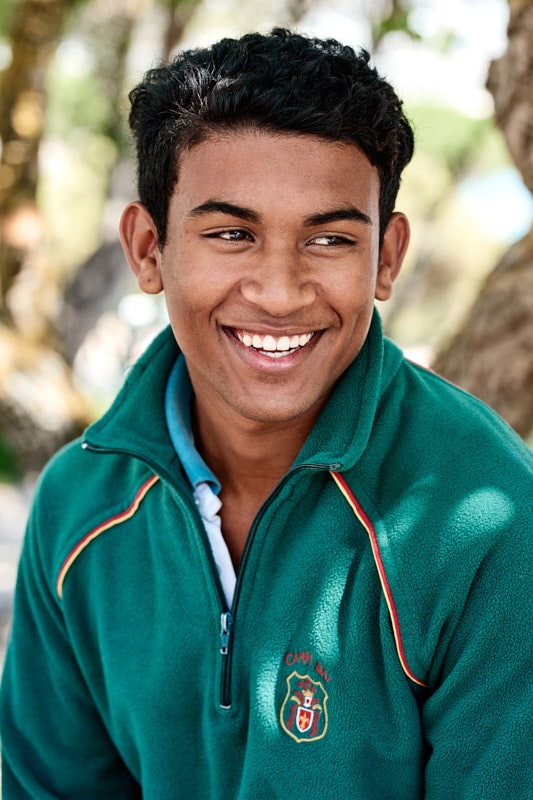 Luke Naidu – #19 – left back & center back
"I come from a background with not rich parents. We have to work hard to achieve our stuff!"
When the RT coach approached Luke, he first thought it was a joke. Then he realized that he had a big chance and took it. The tutoring helped him to get better at school. He is grateful to Pernilla and the RT for what they have done for him. His dream is to become a professional football player. He hopes that he can work his way up from the South African 3rd league. Luke is hoping for a chance to go overseas to play for another international football club.
"It felt amazing to achieve this goal and become 9th in the Gothia Cup 2018. I didn't think we'd get this far in the tournament!"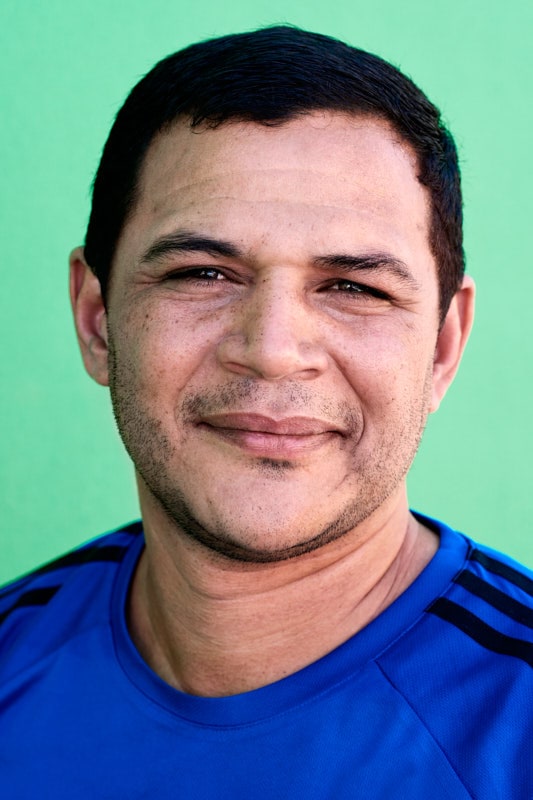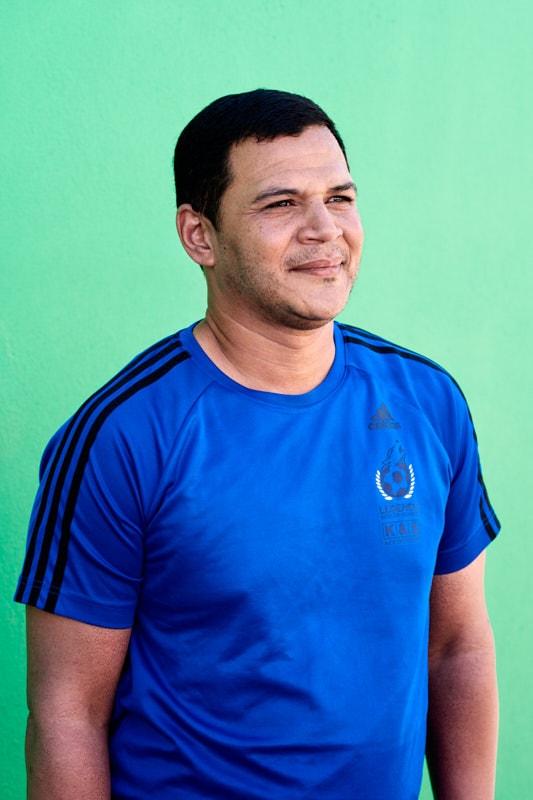 Anees Abbas – Coach
"Rainbow Team is unique. If you look at the teams at the Gothia Cup, RT is very diverse, I think it stands out. Racism is very much alive, I can tell you that. When you see the boys going to games, you have black, or as I say African, white, coloured children, Muslims, Christians, Jews, but you never see a difference when we are together, we are united."
Anees has been working as a full-time coach since 2010, training boys aged 4-18. Pernilla contacted him in 2014 to train RT. The first trip was more of a holiday thing. They were accommodated in a school in Sweden and slept on mattresses, ate with other teams, came into contact with different cultures and got to know people from all over the world. The opening ceremony of the Gothia Cup gave him goose bumps. RT represented South Africa as one of 80 teams from all over the world at the ceremony. It was breathtaking for him. Each trip was also about showing the boys the Swedish culture. They travelled to different cities like Stockholm and Malmo. In retrospect, Anees has the feeling that if you give children the opportunity to fly to other countries, you have to prepare them a little better. The boys were very overwhelmed by all the impressions of the trip.
"I'm really proud that we made it this far. But I have the feeling that we have unfinished business. I'm not saying we deserve to win, we're all winners already. How we have changed and what we have done, every boy who took part in the Gothia Cup is a winner!"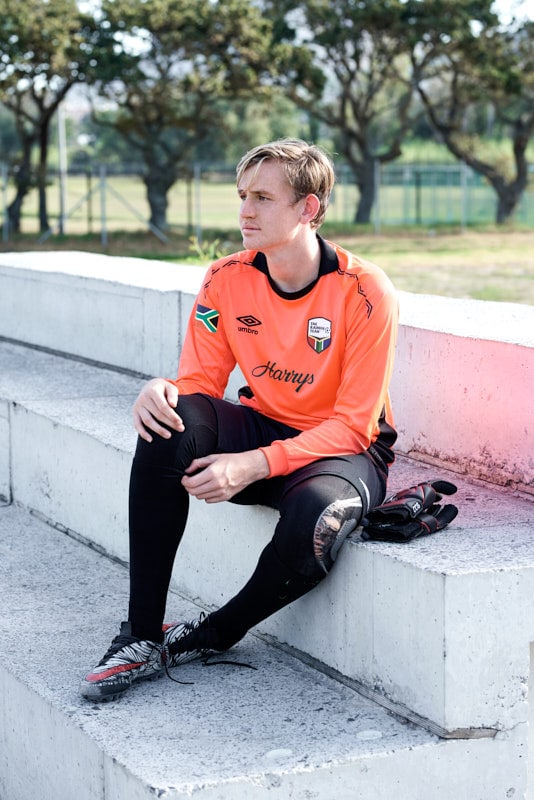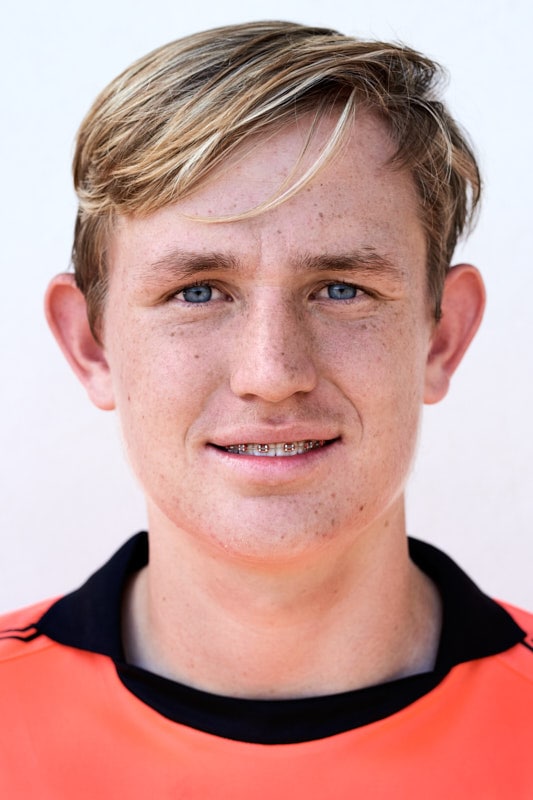 Lleyton Morton Pawley – #16 – Goalie
"When we finished 9th in the Gotha Cup, I felt like a pro!"
Lleyton is 16 years old and joined the Rainbow Team at the end of 2017. The coaches helped him to improve his footwork. He lives with his family in Hout Bay and also plays there, outside the Rainbow Team, as the only white boy in the football club with other boys from the surrounding townships. When he finishes school, he would like to study music production abroad with a focus on hip hop and play football to pursue a professional career.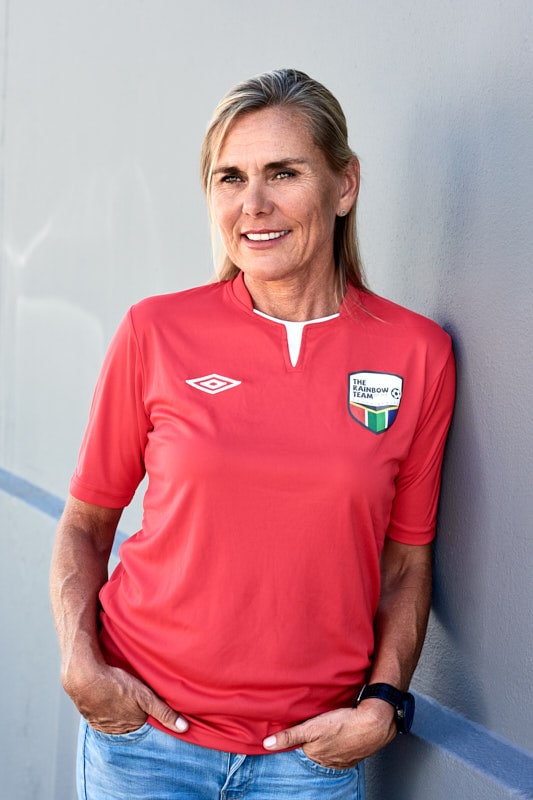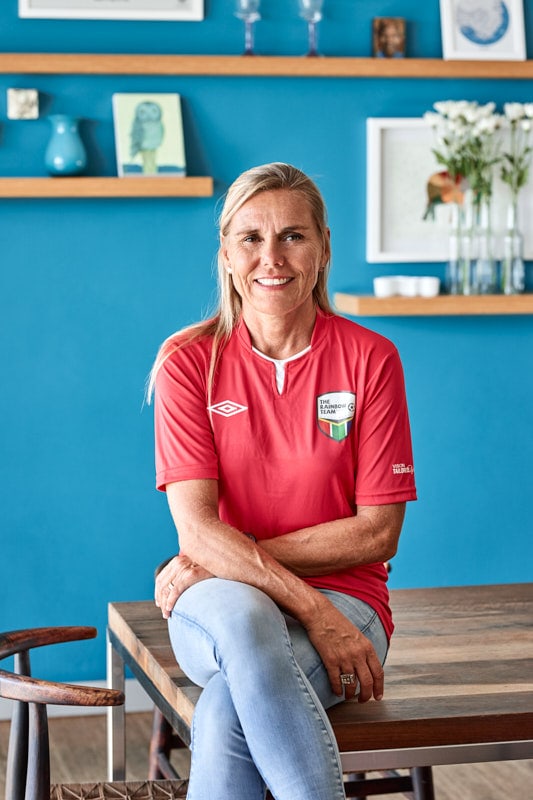 Pernilla Landstedt
"Soccer is my passion and it was through soccer I wanted to try to make difference and a change. You can't change everything but every little bit you contribute with makes a difference."
Pernilla has lived in Cape Town for 21 years after emigrating from Sweden. She runs a company that organises group trips for companies to South Africa.
She came up with the idea of raising money to finance the travel of the underprivileged boys in the team. She approached her clients who were interested in football or sport in general and asked them if they could imagine supporting RT.
When they came back after the first tournament, she thought the trip was a one-time thing, but after a journalist interviewed the children and their parents, everyone said it was the best thing that had ever happened in their lives: the boys spoke to each other in a different way, went to the football club and hugged each other. They said they felt 'ubuntu', which means 'togetherness'.
Pernilla realized that she couldn't just stop this project. She turned to the sponsors and the coach to ask if they would support the team for another year.
But when sponsorship money flows, the children have to stick to rules about how to get there on time, put on the right clothes, do the right thing, even if it's hard, be good at school, not just have football in mind. In 2017, they had to suspend a boy 4 weeks before the Cup because of behavioral problems in school. He changed his behaviour and was allowed to return to the team in time to travel to the Cup. Pernilla wants the boys to be role models, ambassadors of the Rainbow team, not only for the team, but also for South Africa. She wants to help them become great young men.
It wasn't just about playing football. She contacted football clubs in Sweden who donated footballs, shoes and kits to pass them on to the township community. There are many football initiatives in the Cape Flats townships. RT started playing games against the teams and gave away the donated items and food they had prepared: they called it "soccer soup kitchen".
The ambition is to keep the rainbow activities going with these boys until they finish high school. Once a Rainbow boy always a Rainbow boy. There is something in Pernilla saying that potentially starting a new age group and then possibly a girls team to take over after the first Rainbow Boys. That could be the next step. The boys could still be involved and become mentors.
However the project will keep on running with the company as a
CSR (Corporate Social Responsibility) project and handouts will be continuing.